Following the success of our volunteer building trips over the past 3 years, where we built 12 homes for 57 children, we are delighted to offer you another chance to be part of a team that can lay the foundations to a brighter future for kids in Kenya.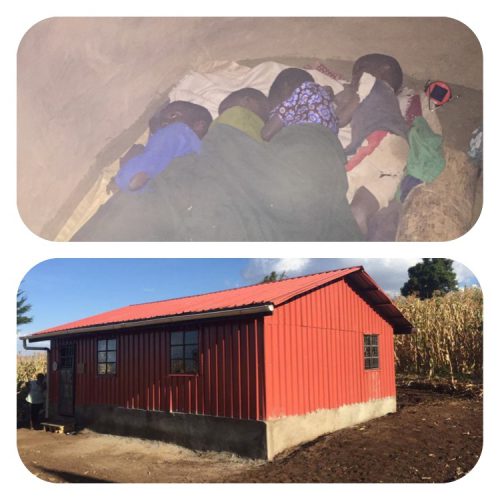 July 2018 Trip
Our 2018 trip will run from 21st July to 3rd August with an optional 3 day safari to Masai Mara 4th to 6th August.
(Future house building trips will be 12th-25th Oct 2019, July 2020, Oct 2021)
Before deciding which families we will build houses for, we take a great deal of time to assess their needs and situations to ascertain whether or not a new house is the best solution for them.  Following our October 2017 building trip we assessed families in both of the regions we work in – Iten and Karatina.  It was decided that those in greatest need of a new house were in the Iten area and we have found alternative solutions to help those we identified in Karatina.
Our next step is to purchase a piece of land so that we can build 4 houses for 4 families during the trip.  There will be small portions of the land available for the families to grow food for themselves to eat and we will also lease a separate piece of land for farming so that they can generate an income for themselves.  We will lease this farm for 1 year and supply them with seeds and fertiliser to give them a boost but after year 1 they will take over the lease themselves.  Between our team of volunteers we need to raise £33,000 for the land, materials and furniture for 4 houses.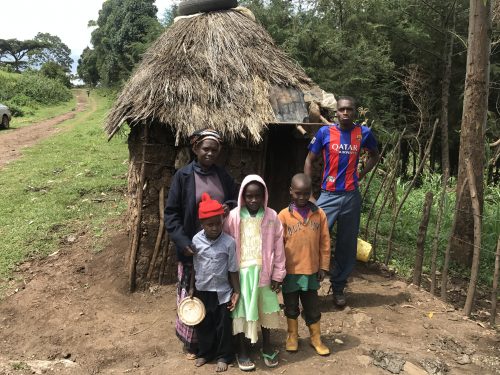 One of the families we are building for (pictured above) currently live in the most cramped conditions we have seen.  Six children and their mother sleep in this mud hut by the side of the road, with an older child, Nicholas (pictured right) sleeping in a similar hut just down the road. They previously lived in the forest but were evicted by the Government and then put on a waiting list for a home. They were 10th on the list but when it came to their turn the local area Chief stole the land and gave it to his son, leaving them to remain in these desperate and dangerous conditions.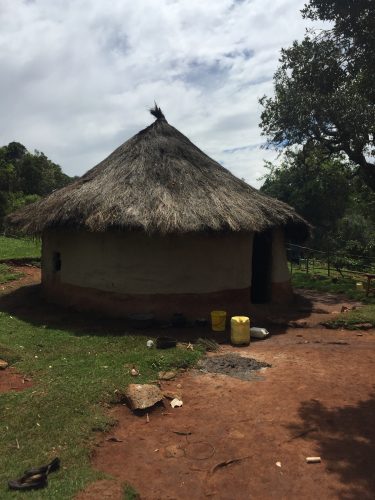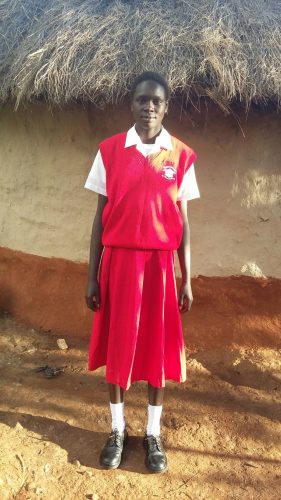 The second family we will be building for currently live the above mud in the middle of a forest.  Mercy Kiplimo (above in red) stays here with her 3 younger siblings Joel, Millicent and Eugene and their grandmother. The children are among the most academically strong of all the children we support. In Mercy's final year of primary school she scored grades that placed her among the top performing children in the country.  Despite this, she was unable to afford the fees to take her to secondary school.  The Kenyan media ran a story on her situation and the Governor of Nairobi agreed to pay the fees for 1st year at a National School (he paid some of them).  The Governor's failed promise meant that Mercy was at risk of being out of school but the Lloyd family from Aberdeen, Scotland stepped in to pay her fees and Mercy is now set to commence her final year of secondary school. Until recently they all slept on a mud floor but we have been able to get them beds and bedding.  All of the children are now in school full time thanks to GEF monthly sponsors but they can face eviction from their home at any moment.
Millicent recently told us: "I am always afraid when I walk to and from school through the forest.  I hope one day I will walk without fear." Building them a home will give them the security they deserve.
Here's what one of our volunteers from 2017, Caroline Tough though of her experience:
I had the trip of a lifetime, here's why: –
With the help, love and support of an army of people I raised £9188 which covered the cost of the building materials for 2 houses – one was dedicated to the memory of my Dad and the other one was dedicated to the memory of my cousin. It also funded a series of health seminars for families which The Gathimba Edwards Foundation support.
I met some incredible Kenyans and experienced a very warm welcome to a country I now love. I met and worked with amazing volunteers from the UK, Kenya, Australia and the US. All the volunteers poured soooo much love and passion into the House Building Project.
As someone who had never even dabbled in DIY activities before the trip, it was soooo exciting to learn some new skills – sawing, glazing and fitting internal walls! Darren Cocker, the Project Manager is a great leader.  He was in full control of the build and was always on hand to answer any questions, and provide guidance to the volunteers.  It was a real privilege to be part of a team that built four houses for families in need.  There was even an opportunity to get to know these amazing families, who later became our friends!
I can't put into words how special it was to meet my sponsor child, Dan. He is such a wonderful person.  I had the opportunity to spend quality time with him. He even taught me a few Kenyan dance moves!
I attended the awe-inspiring house opening ceremony. The speeches, singing, and dancing and (happy) tears are imprinted on my memory.   I will never forget how excited the families were about moving into their new houses!
I visited The Pavilion Village Orphanage in Karatina – the children's home which inspired Myles Edwards and Gideon Gathimba to set up The Gathimba Edwards Foundation. I now understand first-hand what drove these special people to set up GEF in the first place.  I met a remarkable wee boy called Ian who I'll always remember. He told me that his parents had died.  When I offered my condolences, he smiled broadly and said 'thank you'. The kids keep smiling despite so many challenges.
I ran 6 times on Kenyan soil, at altitude. As a runner, this was a great thrill, and really helped my fitness. I even got the chance to run with the co-founders of GEF who are a Kenyan international and a Scottish title holder!!!!
At the Giraffe Centre in Nairobi, I was 'kissed' by a giraffe!
I visited an elephant orphanage, and Nairobi National Park.
I laughed and cried, and learned so much during the House Building Trip to Kenya. I felt as though I had an opportunity to detox my mind. I'm truly, truly grateful for all these experiences, I can't wait to take part in the Building Trip in July 2018!
Please see the trip itinerary below.  A comprehensive information document can be provided on request covering everything that you need to know.
Saturday 21st
Guests arrive any time into Nairobi Jomo Kenyatta International Airport (JKIA)
Taxi or bus transfer depending on arrival time.
Spend night at Tripple O's Hotel, Nairobi – possibly sharing rooms depending on volunteer numbers.
Sunday 22nd
Travel by bus to JKIA
Fly Nairobi to Eldoret then by road to Iten
Check in to Keellu hotel
Monday 23rd
Visit building site and families we are building for
Tuesday 24th to Tuesday 31st
Wednesday 1st
Officially open new houses
Fly to Nairobi
Check in to Tripple O's Hotel
Thursday 2nd
Relax by pool at Tripple O's Hotel
Optional activities: Naivasha safari costing an additional 12,000ksh or Giraffe Centre at 2,500ksh
Presentation
Friday 3rd
Masai Market, David Sheldrick Elephant Orphange, Bomas
Shower at Tripple O's Hotel
Fly home after 10pm
Optional 3 day Masai Mara safari costing £520:
Saturday 4th
Depart Tripple O's Hotel 8am
7 hour drive to Masai Mara
Check into Mara Leisure Camp
Evening game drive
Sunday 5th
Full day game drive and sunset (sun set is weather dependant)
Monday 6th
Optional Masai Village 8am – 2,000ksh
Depart camp 9am for 6-7 hour drive to Nairobi
Arrive back at Tripple O's Hotel for showering
Fly home after 10pm
The cost of the trip (excluding international flights) will be £1,115 per person.  This includes all accommodation, meals, domestic flights, transport, airport transfers and tourist activities mentioned above. We ask that everyone arrives at any time on Saturday 21st July.  If you wish to arrive a day earlier this can be arranged at an additional cost of £80 for transfer, dinner and hotel. Please book return flight for after 10pm on Friday 3rd August – unless you are going on the Masai Mara safari (which is separate from the GEF trip) then you should book your return flight for after 10pm on Monday 6th August.
Our trips are always offered at cost price so we kindly ask that everyone joining our adventure can set up Total Giving pages to help us fund raise for the approximate £33,000 building material and land costs. We require everyone to raise a minimum of £1,000 to fund these. Fundraising pages can be set up here – http://www.totalgiving.co.uk/charity/gathimba-edwards-foundation – please name your page with your FULL NAME followed by – GEF VOLUNTEER TRIP 2018 so that it is easy for us to keep track of donations.
Please let us know via the below email address if you wish to attend as we now have a waiting list for the trip.  Deposits of £200 are required to be paid before the end of January 2018 to secure your place. All payment, visa and vaccination info is included in our information document which is available on request.  We also have high levels of interest in our October 2019 trip (details TBC) so please get in touch if you are keen to be part of that project.
If anyone knows of companies or individuals that may be in a position to sponsor team t-shirts, tools, timber, windows, doors, land or any other individual aspect of the work please let us know.  Logos can be displayed on our t-shirts, website and presentations. It would also be helpful if anyone keen to come on the trip can let us know of any DIY experience they have. To register your place or find out more information, please email info@gathimbaedwardsfoundation.org
October 2017: 4 houses for 10 children in 7 days
In October 2017 our volunteers built 4 houses for 2 families in 7 days – 1 day ahead of schedule!  You can watch how we did it by clicking here.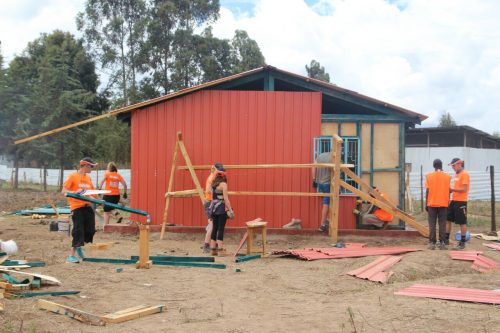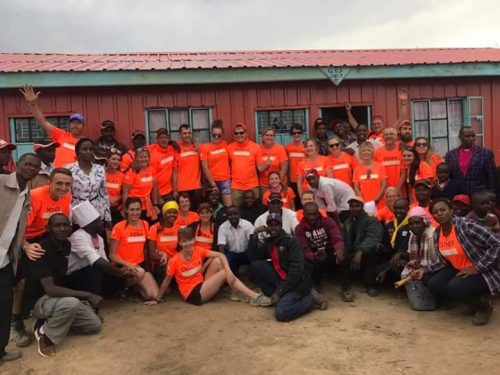 The family pictured below had been through some very tough times. The 6 of them lived in a broken wooden shed in Nyeri.  James (right) scored very impressive primary school marks of 352/500 but couldn't start secondary school in Jan 2016 due to lack of £140. His dream of becoming a neuro surgeon was in jeopardy. He decided he wanted to try and commit suicide so that he wouldn't see so much more struggles but he was convinced not to by our GEF staff and a local counsellor.  Thanks to kind sponsorship from Alan Esson, James is now in secondary school and tells us the sky is the limit for him and his family. He is determined to change his family's life for the better.  His brother Stephen (left) fell of the back of a moving pick-up truck in 2013 and spent 1 month in a coma.  Hospital fees were impossibly high to pay but neighbours joined together to pay some and the rest was paid by the local area administration. He has now fully recovered and wishes to go to college so that he can become a plant operator. Twin girls Faith and Ann are currently in nursery school thanks to support from four of our house building volunteers, Suzy, Susan, Fiona and Susan.  They never stopped smiling even though they were living in some of the worst conditions we have seen.  These smiles are even bigger now thanks to the volunteers efforts and the girls provided us with lots of singing and entertainment during the building. Paul is also back in school thanks to sponsorship from Claire Barrie and Chris Hanton as part of our #12days12futures campaign in December 2016.  There is an amazing unity between the children and their mum.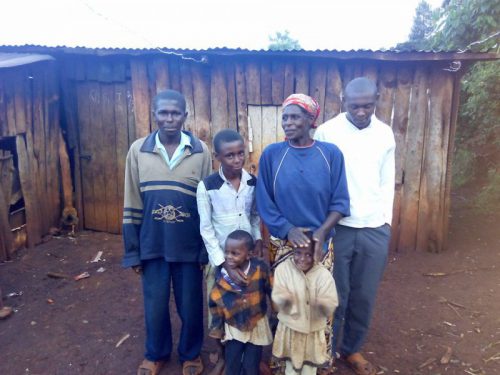 In the family pictured below, Humphrey (right) scored very high primary school marks but had been sent home from Form 2 of secondary school due to a lack of fees and Form 1 arrears.  He was set to be unable to complete his education.  They lived just outside Karatina where they shared a small rental house. Mum Lucy (right) shared the single bed each night with little Fidelis and her sisters Phoeby (brown dress) and Ivy (yellow dress) whilst Humphrey and his younger brother Gibson (second left) stayed next door in a small room.
The family had lived with their grandparents until sadly they both passed away. Much to our anger, their uncles chased the family away, refusing to let them stay in the family home or support them in any way.  This left them homeless until a kind landlord decided to give them a small house temporarily but they then had to move from house to house as they struggle to pay the rent.
Earning £1.50 at most each day working long hours on a farm, it was pretty much impossible for Lucy to pay school fees – especially Humphrey's university fees and Gibson's £500+ a year secondary fees – or to ensure that they were all eating regular meals.  We are delighted that all 5 children are now in full time education and eating regular meals thanks to support from sponsors who the children write to regularly. Humphrey recently completed secondary school and scored an impressive B- which saw him start university this year. We are soon going to be able to help Lucy start her own business. The family are one of the most humble and polite family's we have met.  Following a shopping trip which we took them on in April 2015, Lucy wrote a lovely thank you letter to Gideon Gathimba thanking us for our support.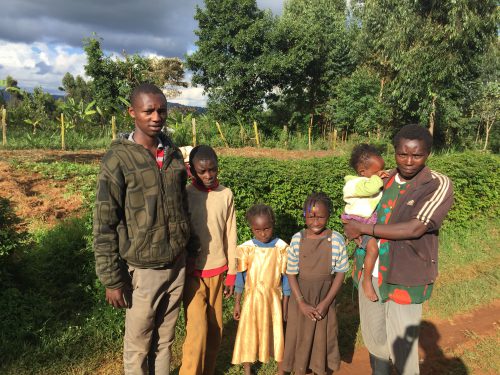 Huge thanks to all of our volunteers, their friends and family for everything you did to help us successfully build the 4 houses in 7 days. The houses were built on GEF land and each family will be given a portion of the land to grow various foodstuffs that will provide them with food.  An additional plot of land will be leased for them for 1 year, and seeds/fertiliser provided so that they can generate an income for themselves.  After they first year they will take over the lease themselves.
As a team our volunteers raised a whopping £36,161!! The total land and building costs came to £27,499 which means that £8,662 more than required was raised.
This £8,662 is going to enable us to build a new house and kitchen for a family in Iruri who are living in desperate conditions and also make some of the big improvements required at the Pavilion Village children's home such as painting, windows, external flooring repair, curtains, tiling, improvements to the staff houses, an activity area for the young kids and much more.
Caroline Tough, who raised over £9,000 towards the building costs with her friends and family had this to say about the trip:
"I enjoyed every second of the trip. I appreciate and value everything the fantastic GEF team did to make it a trip of a lifetime on so many levels.  I can't wait to come back next year!"
After the building works were complete guests enjoyed visits to The David Sheldrick Elephant Orphange, Nairobi National Park and Masai Mara – where we saw the famous 'Big 5' animals withing 5 hours!
Thank you to all of you for transforming so many lives.  Bring on July 2018!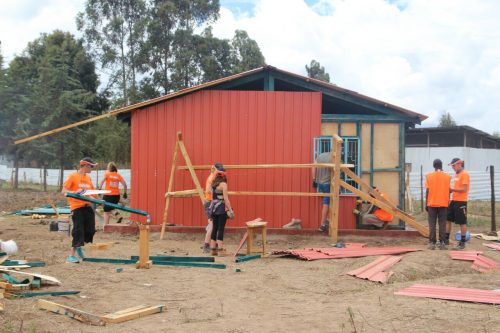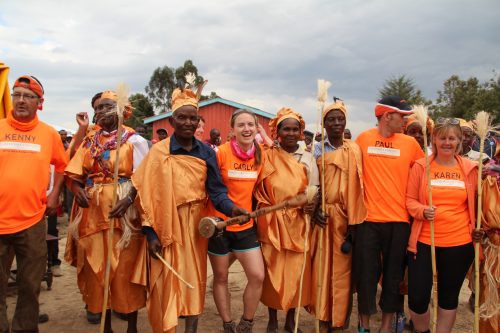 The 2016 trip: 5 houses in 9 days
In October 2016 our 25 volunteers achieved something very special.  In the space of just 9 days they managed to build 5 houses for families in Iten.  Their amazing efforts have taken 25 children from sleeping on the floor of mud houses to lovely new beds in shiny new timber homes.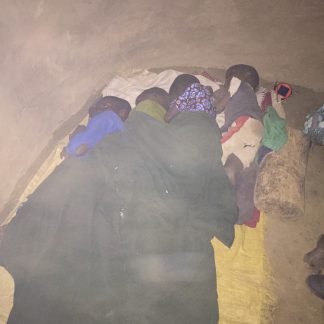 Here's what some of our volunteers had to say about the experience:
"Seeing the excitement of the children as they prepared to move into their new homes was incredible.  They appreciate the small things in life.  It was inspiring to see what a weight it was off their mum's shoulders to have a safe place for her and her children to sleep.  Jess Thom

"Its a pleasure to be a part of GEF and help children in my hometown to have safe homes and bright futures." New York and London Marathon champion, Mary Keitany who officially opened one of the new houses.

"It is amazing how quickly great things can happen.  Arriving at site each morning and seeing the progress of the previous day is fantastic.  I just love it."  Jo Robertson

"The hard work is worth it.  You get a lot more out of it then you put in." Tracey Monro

"It is great to see what we achieved in such a short space of time.  The impact it brings to locals is fantastic and clear to see."  Steven Smith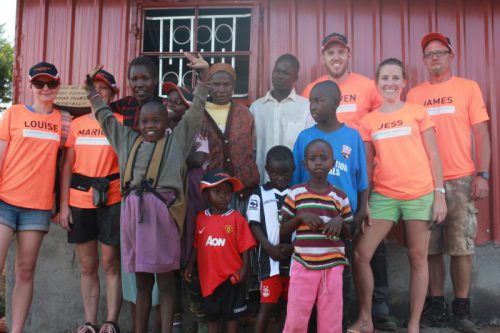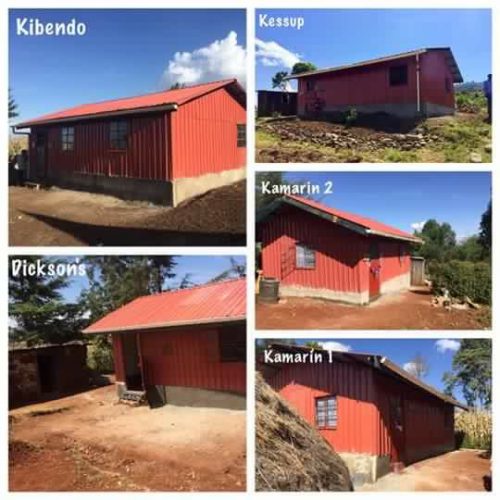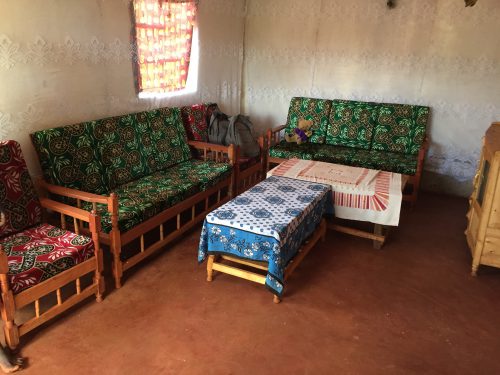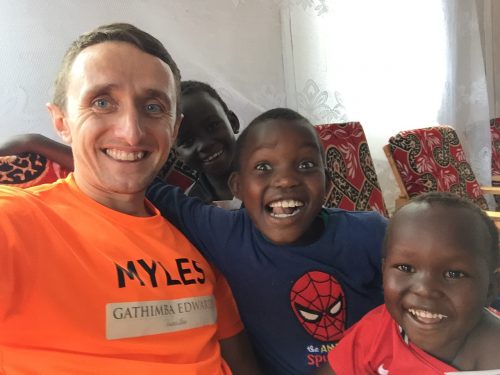 The 2015 trip: 2 new homes for 20 children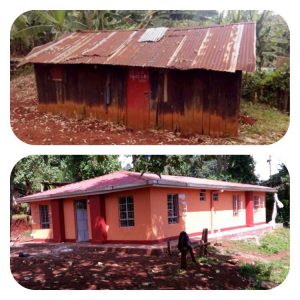 We are incredibly proud of our 51 volunteers who in October 2015 helped us build a new 16 bed dormitory for the children at the Pavilion Village children's home and a 3 bedroom house for Judy Gathigia and her family in Iruri. This wouldn't have been possible without their efforts and in particular the support from Stewart Milne Group who flew 19 of their expert staff out to help our efforts.  They tell us what they thought of the trip in this video: https://www.youtube.com/watch?v=cfcZ5lX1IXc&feature=youtu.be
"The whole experience was inspirational and what made it even more humbling was that the people we were building for were with us on site every day." Garry Willis.

"This was the most unreal and amazing 2 weeks of my life.  The reality of life for so many people in Kenya is unbelievable. We were able to do so many inspiring and life changing things in a short space of time.  So many special memories and some new life-long friends too." Nicola Henderson

"Unlike most charity donations/events I have done before, this trip gave me the opportunity to see first-hand the difference that our money, clothes, toys and hard work would make to severely underprivileged children." James Ferguson

"This trip is a memory that will stay with me for the rest of my life.  The hardship that I have now seen, that some of the less fortunate people in the world go through has really made me appreciate what I have in life." Frank O'Reilly