At the time of writing (31st July) 19,913 people in Kenya have tested positive for Coronavirus and sadly 325 people have passed away.  The Kenyan Government have implemented strict social distancing measures in an attempt to prevent the situation from escalating.  However, should the virus spread on a greater scale it is a huge concern that the health system, particularly in rural areas, will struggle to cope.
COVID-19 impact on GEF families and the charity as a whole.
– Many of the children we support rely on school meals. With schools, colleges and universities in Kenya closed until at least September lots of children are at home living in desperate conditions and short of food.  However, there are also children living in the houses we have built and there are families who have been supported by our farming projects and Two Feet Business Start Up Initiative that are coping better than others.
– The majority of our families rely on casual work (typically on a local farm earning £1.50 per day).  The lockdown nature of the COVID-19 situation means that this work is not available and they have zero income.
– Parents and children who suffer from HIV and other health conditions are particularly at risk if they were to contract the virus.
– The GBP/Kenyan Shilling exchange rate became very volatile at the end of March, dropping 9% from the previous month which had a significant impact on our monthly budget transfer of funds.
– Our team of 5 staff in Kenya and 2 in the UK are all working from home. Our Aberdeen, Iten and Karatina offices and the shop in Iten are closed until further notice.
– Our August 2020 volunteer house building trip and various fundraising events such as our Ladies Lunch, GEF Dinner and Quizzes have been postponed with new dates to be confirmed when we have greater clarity.
– More than ever we are grateful to and reliant on everyone who sponsors a child with us.
What we are doing to support families through COVID-19
– We are trying to make sure that the most vulnerable families have enough food and essential items during this challenging period.  We are doing this by remotely placing orders at small shops across the country, paying electronically via Mpesa and asking one person from each family to collect the items.  Items include rice, beans, maize, vegetables, sugar, tea leaves, cooking oil, cereal, flour, soap and hand wash and also seeds and fertiliser for growing food. The photos on this page (some taken at homes and others at shops) are of families receiving items during the first week of our support. Currently we are doing this for 71 families and aim to continue the support up to the end of September. As of 31st July 2020 we have provided 4,641 days worth of food to families over the past 4 months.
– We are in regular contact with all families we support reminding them of the Government's social distancing and hygiene advice.
– We are also in contact with the families we support in Aberdeenshire through the Neil Jaffrey Initiative and are ready to support as needed.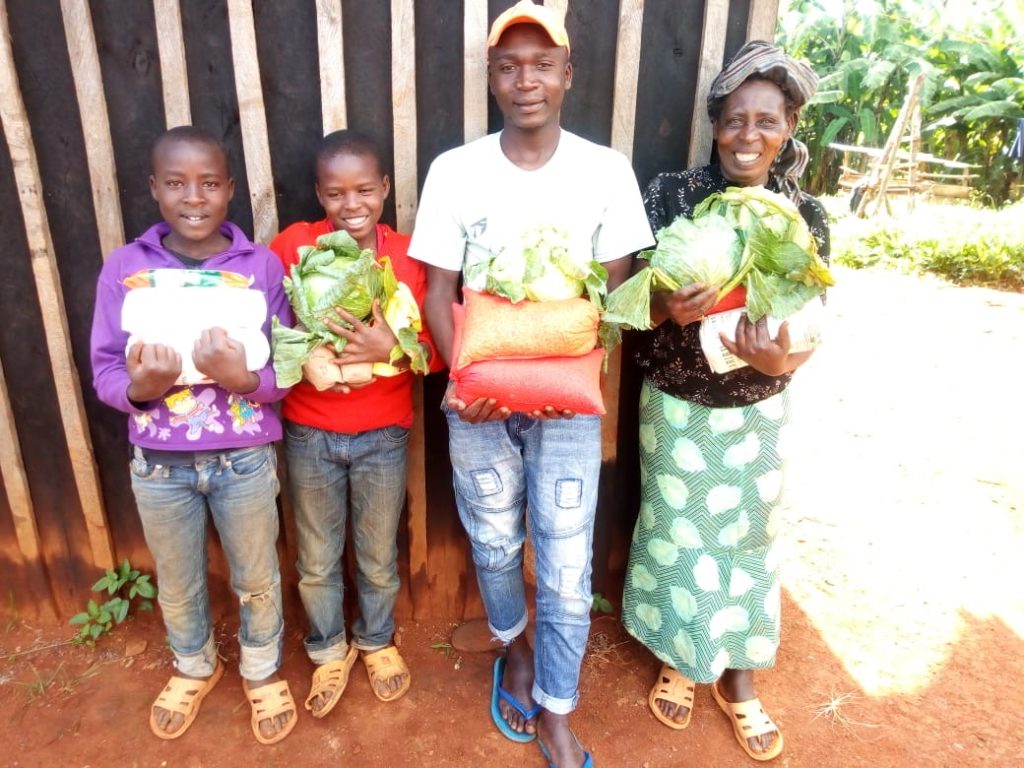 How you can help / get involved with GEF during COVID-19
– We recognise that this is a tough time for everyone and some people will be unable to support our efforts. However, if you are able to donate money towards ensuring the families we support receive food, essential items and medical care if required, please click the link below. On average it costs £9 for us to provide one of our families with enough food and essential items to last one week.
www.totalgiving.co.uk/mypage/GEF-COVID-19
– We encourage our child sponsors to write to their sponsored child during this time. Hand written letters should be scanned/sent electronically to info@gathimbaedwardsfoundation.org
–  While social distancing is imperative, we would reiterate that wherever you are in the world, it is important to stay active.  If you need any fitness related advice, Gideon and Myles can be contacted via the GEF social media channels or info@gathimbaedwardsfoundation.org.
Tuko pamjo na tutapitia hii – 'We are together and we will get through this'