Our aim is to have enabled the start up of 44 businesses and farming projects across 13 regions of Kenya by December 2021.
Gathimba Edwards Foundation was initially set up to provide education and shelter for children and their families.  However, following community engagement we decided that we wanted to do more in assisting families to become self sufficient. With this in mind we developed the Two Feet business start-up initiative which has so far enabled 35 families to plan, start and run their own businesses. These businesses include hair salons, dairy and dairy farming,  retails shops and cafes.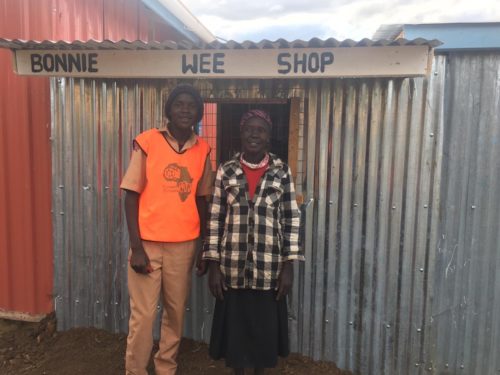 Following a thorough assessment of set up costs, viability and sustainability, we provide part loan/part grant funding to each business. A loan payback agreement is decided and the return of money is reinvested into future businesses for other families. Each business is allocated a business mentor who guides them with procurement and is actively involved through our monthly review process. Our team also collates lessons learned from each business to ensure maximum efficiency and effectiveness going forward. Business owners also have the opportunity to join a business forum in their local area which provides a platform for sharing ideas and experiences.
The start up costs of a business range from £150 to £550 depending on the type of business. This support can create a bright future for a family for generations to come.  For more information or to support a business start up please contact us.
---
Our team work tirelessly to support the 'Two Feet' families in establishing successful businesses.  Naturally running and logistical costs are occurred with the regular mentoring and monitoring nature of the programme.  We cannot thank Dale Sutherland, Managing Director of Aberdeen Cyber Security for becoming our Headline Sponsor of the Two Feet Initiative, which now enables us to run this programme to our fullest capabilities.