We are excited to launch the GEF Scotland to Kenya Challenge, sponsored by Abervail!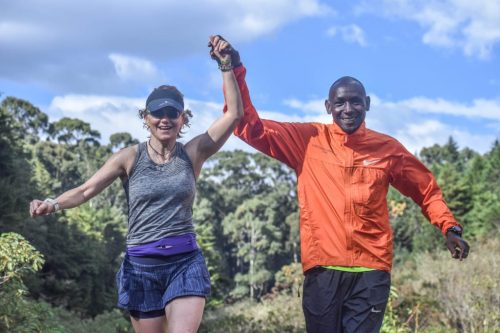 Perhaps you have been active during January as a result of new year resolutions and are now looking for a new source of motivation?  Or maybe you are looking to kick start your exercise regime for the year a little later than planned?
During the month of February 2021, as an individual or as part of a team, we are encouraging people to walk, run or cycle as many miles as possible to help us reach the 6,806 miles between Aberdeen, Scotland and Karatina, Kenya and also raise vital funds.
---
2020 was a challenging year for most of us.  Despite the cancellation of 10 events and our trips to Kenya due to Covid-19, we rode the waves and are proud and grateful for what we were able to achieve:
8 months worth of food & essential items provided to 80 families across 20 regions
38 new children welcomed to our school fee, uniform, shoe & book support programme (454 children supported in total)
2 new houses built
10 family-run businesses started (35 in total)
341 children received a special food package at Christmas
We believe the Scotland to Kenya challenge can play a major role in enabling us to support even more children and their families in 2021.
Here's how you can sign up
Download and complete this Agreement Form and email it to info@gathimbaedwardsfoundation.org
Track your distance manually on our tracker form or by joining our Strava club event
Help us raise vital funds as an individual or part of a team. This can be done via a personal donation or the set up of a TotalGiving page or Facebook fundraiser and encouraging your friends and family to sponsor your efforts.
Let us know the distance you have completed.  This can be done throughout the month to help us keep a running total but your final total should be submitted on 28th February via info@gathimbaedwardsfoundation.org
Join our private Facebook event page here (not compulsory)
---
There is no minimum fundraising amount but we would really appreciate if people set the goal of trying to raise £100. The following are examples of what £100 can enable us to do:
25 reading books

10 pairs of shoes/trainers

25 packets of maize seeds for families to plant

16 warm blankets

3 single mattresses and bed sheets

Exam fee of a college student
If you would like to complete your miles wearing a GEF technical t-shirt or cap these are available for £10 each (t-shirts usually £20).
You can see how others are getting on and share your progress via our private Facebook event page.  We would be grateful for any social media posts across the various platforms, tagging our GEF page and using the hashtag #GEFScotlandToKenyaChallenge
2,000 walking steps is approximately 1 mile whilst running 1 mile can take approximately 1,500 steps depending on your stride length. 
Thank you to Abervail for sponsoring this event.