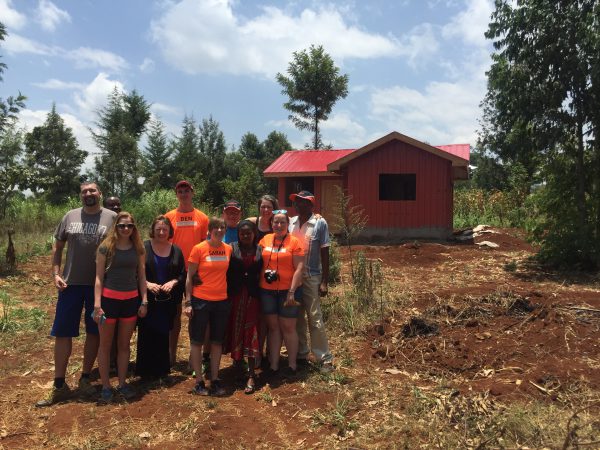 Late 2014, my wife Ali encouraged me along last minute to a talk that Myles Edwards was doing on Kenya.

I had limited background info, so I turned up quite uninformed. Within 10 minutes Myles had said and shared enough about Kenya to convince me to travel with him and the 'Kenya 22' crew to Kenya to see for myself the amazing things that the Gathimba Edwards Foundation were doing there.

What I wasn't prepared for was how much Kenya would impact me individually and my life in general. By the time the Kenya trip came round in March 2015, I had been redundant for 2 months and the job front was quite bleak.

The Kenyan people however helped to show me that there are more important priorities in life. Their attitude and spirit for life, reset my own life priorities and perspective, in a positive and permanent way.

Their simplistic approach to life revolves around the need for shelter, food, education and basically everything many of us in Scotland take for granted.

I was moved to tears on several occasions at the desperate situations that Kenyan children face on a day to day basis. We met one girl, Naomi, who although an older child, was an orphan fending for herself, living in effectively a non weather-proofed shed while trying to remain in education. Although she had very little to show us round, she was still happy for the group to visit her. I stood back from the group as they wandered around Naomi's shed and took it all in. It was that moment while standing in the Kenyan dirt staring at the sparseness of Naomi's living conditions that I decided I needed to help. When no one else was looking, I whispered in Naomi's ear that we would look after her, she gave me a humble acknowledgement and smiled back.

Naomi is now in full time education, supported by the Foundation and has a brand new home built by our fundraising, we now also support her in terms of food and clothing and she even has a mobile phone. I chat to Naomi on WhatsApp on a weekly basis sharing updates on my life and my family, while reading about Naomi and her schooling.

Kenya has changed my life, it has given me a reminder of what really matters in life and I encourage everyone and anyone to grab the opportunity to visit this beautiful country and its amazing people.
Craig Mathers