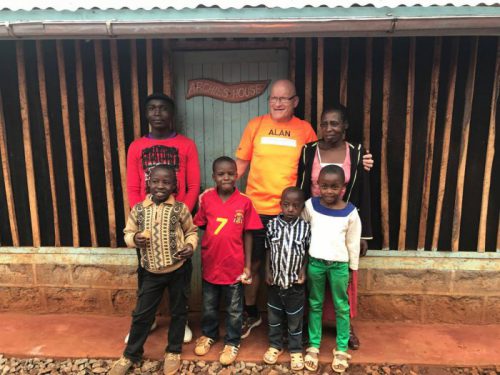 Be one of the Kenya 22.
Each Spring, this unique opportunity offers you the trip of a lifetime.
If April does not suit you, we also run a house building trip to Kenya each year.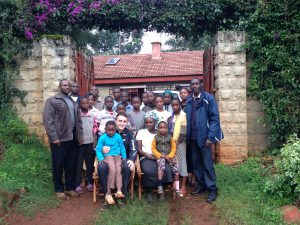 Wondering where the '22' comes from?
It was a visit to the Pavilion children's home in 2013 which inspired the set up of our foundation.  At the time, the Pavilion Village was home to 22 children who for various reasons were no longer looked after by their biological parents. Their attitude and determination in the face of adversity continues to inspire us today.  All fundraising from the trip will go towards the education, shelter, clothing and food of the 243 kids we are proud to be supporting.
Sat 31st March to Fri 13th April 2018 Trip
Our April 2018 trip gives you the opportunity to:
Climb Mount Kenya
Teach for a day in a primary school
Run our 5k or 10k Mount Kenya Marvellous races
Visit a coffee plantation
Visit the David Sheldrick Elephant Orphanage
Visit a school in Africa's largest urban slum, Kibera
Attend a church service
Visit families we support
Visit new houses our volunteers have built
And more!
The trips cost (excluding international flights) is £1,285 and this includes all accommodation, transport, transfers, domestic flights, meals, water, climbing Mount Kenya, activities and race entry.
The trip is offered at cost price and so we kindly ask if guests can aim to raise £500 towards our projects and 243 kids in Kenya.  This can be done through Total Giving – http://www.totalgiving.co.uk/charity/gathimba-edwards-foundation – or by organising race nights, quizzes, bake sales, sponsored silences, running races and other fundraising means.
We ask that guests arrive into Jomo Kenyatta International Airport, Nairobi on Saturday 31st March between 6pm and 10pm (earlier or late arrival times can be accommodated for a small extra cost).  Guests should fly home after 10pm on Friday 13th April.
There is also an optional 3 day safari to Masai Mara available from Sat 14th to Mon 16th for £500.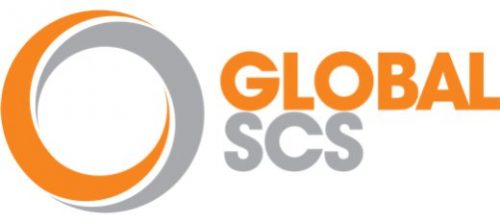 We would like to thank Global SCS who kindly agreed to sponsor the t-shirts for this years Kenya 22 trip.
April 2017 Trip
Our team of 12 guests climbed Mount Kenya in support of our kids and raised an amazing £7,200!
During the course of their 2 week spell in Kenya they touched hearts and changed lives forever. They visited families, ran our Mount Kenya Marvellous 5k or 10k races, officially opened new houses we have built, went on safari where they saw lions, giraffes, buffalo, zebra and much more, met world famous athletes, acted as team GEF for a day assessing the needs of a family and recommending the support we should offer, toured Kasarani Stadium and last but by no means least climbed Mount Kenya.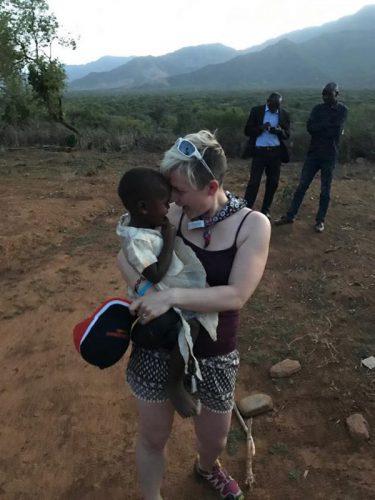 Thank you to Alan Brown (his 3rd trip in 3 years) and Abi Lyall for these kind words about the experience:
"Huge thanks to the AWESOME team in Kenya, it feels like my second home, the people are amazing. The work that the Gathimba Edwards Foundation puts into the two weeks that we were there is astounding, I am sure everyone that was with me would agree. Already looking forward to a new adventure with the next group who are going to go next April, if anyone is thinking of going, JUST DO IT, it will be the best experience of your life and make you appreciate what you have here. What are you waiting for?" Alan Brown.
"What a trip, amazing, emotional, exhausting, exhilarating, beautiful, breathtaking and more than anything humbling. We were able to witness first hand, not only the utter poverty but, the inspirational work the GEF team are doing. How so little can do so much and how a smile and a wave(and maybe a sweetie and some bubbles) can bring so much joy. This trip has changed us it has inspired us it has moved us and it will remain with us." Abi Lyall.
We owe thank you to Mark Shaw Funeral Services and Core 94 for kindly sponsoring aspects of the trip.
The 14 day trip cost our guests £985 (excluding international flights). This covered absolutely everything including Mount Kenya, hotels, transport, transfers, water, food, race entry, safari etc. We also ask that guests try to raise a minimum of £500 towards the 243 kids we are supporting. This can be done through: http://www.totalgiving.co.uk/charity/gathimba-edwards-foundation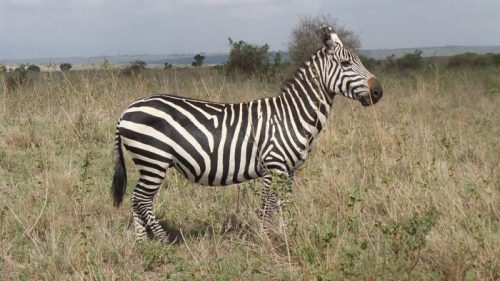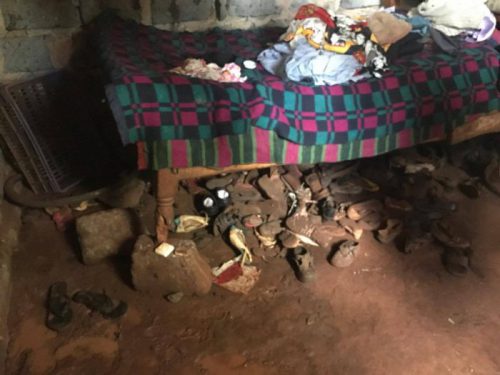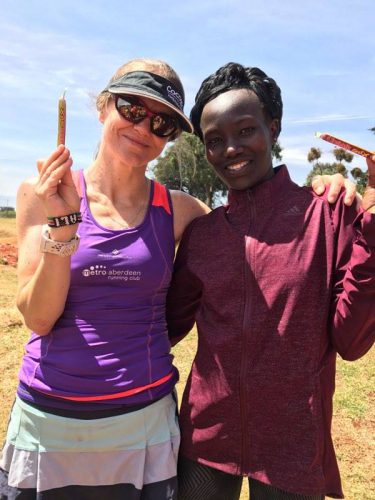 March 2016 Trip
Asante sana (thank you very much) to our 8 guests who were part of this memorable trip and raised an incredible £8,687.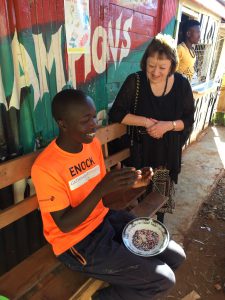 This unique opportunity gave our guests the chance to give kids in Kenya a chance while also enjoying the trip of a lifetime that included: taking part in our Mount Kenya Marvellous race alongside Kenyan runners, David Sheldrick elephant orphanage, Giraffe Centre, boating on Lake Naivasha, New Life abandoned baby home, meeting world famous athletes, visiting schools and many of the children and projects we are supporting throughout the country.
The money raised has enabled us to build a house for a family in Karatina, pay the tuition fees of 28 of our kids through secondary school for 1 year and buy equipment for our Chaka Youth Football Project.
Click here to read what Craig Mathers thought of the 2015 and 2016 years trips.  Thank you to Peterkins Solicitors for sponsoring our team t-shirts for the second year in a row!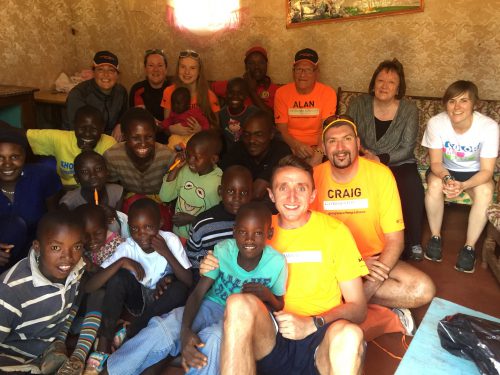 March 2015 Trip
We would like to say the biggest thank you to our 2015 Kenya 22 family which raised over £12,500 for the children we are supporting in Kenya.
The team of 15 were great fun and it was a huge pleasure to spend 12 days with them visiting children, meeting world famous athletes, going on safari and running the Rift Valley Marathon. It was truly humbling how they embraced the trip and supported the various children we met. We look forward to seeing you all in Kenya again very soon.
Here's what one of our guests, Ali Mathers had to say about it:
"The trip for me is so hard to describe through words! It was utterly inspirational and humbling to visit the Pavilion Village. I was in awe with the humility of all the children and young people. The sense of pride, ownership and family connection was overwhelming. I actually stayed at Pavilion Village and embraced the life there. The resilience and sheer robustness of the children was quite amazing! Visiting the homes of children made me realize how not only lucky we are in the UK but also how materialistic and stimulated we are by unnecessary nonsense. Kenya was so beautiful – the lushness of the country was incredible. The sun rises and sunsets was stunning!"
See more of the amazing pictures here