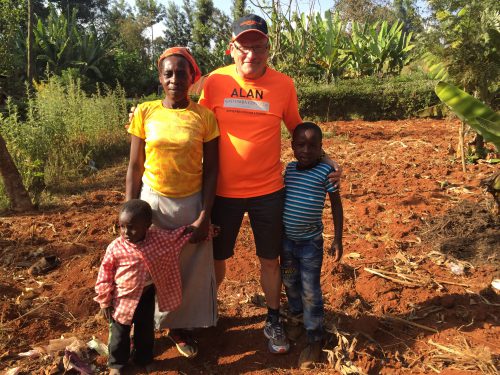 Alan Brown is one of a kind.  He comes to Kenya with us each Spring, sponsors a young girl called Mary at Pavilion Village and regularly attends and helps out at our events.
In March 2016, Alan did something very special.
We visited a family in Karatina who were living in some of the worst conditions we have encountered.  Mary, her son John and grandchildren Stanley and Oscar went days without food and even ate the soil to get iron into their diet.  The boys were out of school due to a lack of fees and wearing old torn clothes.
Immediately after visiting them Alan was so touched by their attitude in the face of huge challenges that he donated £1,500 which enabled us to build this brand new house for them.  Over 150 people turned up for the official house opening and we have never seen Mary smile like this before.  The house has been named Archie's House after Alan's family pet dog who sadly passed away just before the house was built.  Alan has truly transformed this family's lives for generations to come.