Our next Haddo Cross Country Races will be held on Sunday the 27th of January 2019.
Full details to be released soon.
2018 event 
Thank you very much to everyone who ran and supported our Haddo Cross Country races on Sunday 28th January 2018.  You raised a fantastic £855.68 with a considerable amount still to follow from the series entries.  The amount raised enabled us to provide Cheerful Special Needs Children's Home with maize flour for a whole year and also a home help for one of the families we support in Nairobi as their single father recovers from major surgery.
The full race results are available here.
Huge thanks to the following people and companies for the amazing things you did to make this event possible:
The 47 volunteers who helped with marshalling, entries, results, running, timing, car park, shop.
Jog Scotland Kintore for filling so many of these volunteer positions.
Abi Lyall for helping to set out the course on Saturday and starting the races today.
All runners and spectators.
Andrew Gordon of The Running Shop for organising/sponsoring the overall series.
Andrew Ferguson, Jackie Stewart and Peter Jennings for their support leading up to the event.
Peter Mathewson and Jane Tosh of Falcon First Aid.
Elaine and the team at Mrs Smith's café for supporting our volunteers with soup and sandwiches.
Our event sponsors: Susi Adams Clinic Ltd (for the second year in a row) and Calum Crighton/C & G Legal & Commercial.
We'd like to thank the staff at Haddo for their support and the National Trust for allowing us to use the park free of charge in 2016 and 2017 and for a charge this year.  The National Trust, however, have changed their rate structure for future events and the significantly increased fees put the future of our event in doubt unless we are able to find a minimum of 4 x £300 sponsors for the January 2019 event.  Sponsors will be recognised via race banners, posters, medal presentations our website, social media and can have literature displayed at the event. Any help in spreading the word about this would be greatly appreciated.
Excluding the hand-made Kenyan hand bags, all of the items which were on sale at the event are available for purchase via www.gathimbaedwards.wixsite.com/shop – you can also come by our Aberdeen office to view and buy them.
Without all of you who supported us this event simply wouldn't happen – and if the event doesn't happen then we can't deliver this vital support to our kids.
Thank you from the bottom of our hearts for changing many lives!
2017 event
Thank you so much to the record number of people who ran and supported our Haddo House Cross Country races – you raised an incredible £2,307.41 which is almost 4x as much as last year and is enough to build a 2 bedroom house for one of our families in Kenya.
This simply would not be possible without the army of amazing volunteers who came out to marshal, take entries, run alongside the competitors, collate results and more! It's impossible to mention everyone but special thanks to Abi, Emily and Mo who came out Saturday and Sunday to set up the course and marshal, Tammy Wilson and Jog Scotland Kintore for rallying 30 volunteers, Jackie and Craig for taking on the challenging job of results and succeeding, Peter Jennings (and Jackie again) of Metro Aberdeen and Andrew Ferguson for their support leading up to the race, Diana and Haddo for letting us use the stunning Haddo Estate, Mrs Smith for supporting our volunteers with food and last but not least every volunteer, runner and spectator.
Huge thanks to our generous sponsors Susi Adams Clinic Ltd, Run4it, David Lloyd Clubs, Service Point UK & Prosource.IT – you played a very big role in making this achievement possible.
You have all done something very special today which will transform the lives of our kids. Thank you!
Results: Are available here – Haddo XC 2017 results (winning teams in U11, U13 and U15 are in bold).
Individual medals: for 1st, 2nd & 3rd in each age group.  If you were unable to collect your medal on the day please contact Myles on the below email address.
Team medals: (1st place team) for U11, U13 &. U15 ages (first 3 runners to count). If you were unable to collect your medal on the day please contact Myles on the below email address.
Contact: Myles Edwards – info@gathimbaedwardsfoundation.org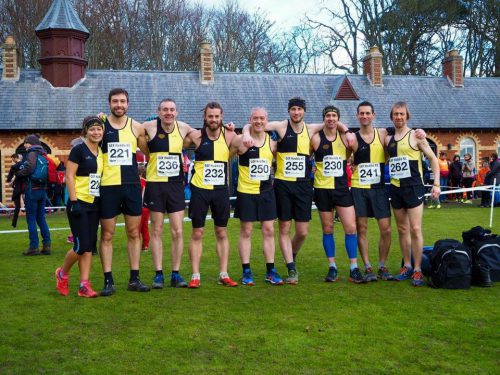 2016 event
Thank you to all 272 runners and their supporters who took part in our races at Haddo House on Sunday 24th January 2016, your efforts raised £602.05 which will enable us to pay the tuition fees of 60 primary school children in Kenya for the whole of 2016.
We would also like to say a huge thank you to our 35 volunteers and Metro Aberdeen Running Club – you took care of entries, results and stood out in the cold for hours as marshals with 100% enthusiasm and without you this event wouldn't have been able to go ahead. Final thank you goes to Diana at Haddo House, Mrs Smith's Cafe, Run4it, Universal Inspection (UK) Ltd and prosource.IT for your support of the event.
Full race results: Haddo 2016 Race Results