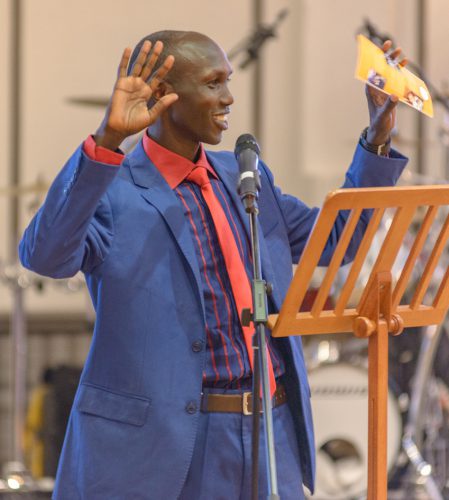 Thank you to everyone who helped us raise an incredible £49,103 at our second Gathimba Edwards Foundation dinner on Saturday 18th February 2017 at Ardoe House Hotel, Aberdeen.
Guests were inspired by our first speaker of the evening Wilson Kipsang.  The former world marathon record holder, Olympic medallist, New York, London and Berlin marathon champion, who attended the dinner on route to the Tokyo Marathon, spoke about his humble beginnings and how his running success has changed his life and the lives of those in the community around him.  Next up was inspirational 18 year old Enock Kirop who has benefited from the Foundation's support and also runs our bracelet operations in Kenya.  Enock told guests of how their support had transformed his life and given him the chance to realise his dreams.  It was Enock's first time on aeroplane to attend the event.  Former world 5,000m record holder Dave Moorcroft was in attendance again, this time excellently compering the evening's proceedings.  With Wilson Kipsang, Gideon Gathimba and Dave Moorcroft in attendance, there was three former world record holders present as well as GEF's Peter Githingi who has helped over 1,000 children through his work with street children, Scouts and the Chaka Youth Football Project in Kenya.
The Neil Jaffrey Local Child in Need Award was also presented to Mintlaw based youngster Tyler White.  The inspirational two and a half year old, who suffers from spina bifida, received a specialised bath seat and up seat/walker.  The award was kindly sponsored by the Westhill and District Roundtable group.  In addition to this an anonymous £6,000 donation was made by a local company to allow Tyler's family to install a stair lift into their home.
The money raised from the evening will go towards our building project in October and the significantly increased school and uniform fees of children as they progress from primary to secondary school.  These can jump from as little as £40 per year up to £1,000, which is why so many children don't enter secondary education.
Thank you to everyone who purchased tickets, tables and donated prizes.  To all of our GEF dinner sponsors who have given so generously – bronze sponsors KR Steel, Rose Recruitment and CV Aberdeen, Silver sponsors Red Balloon PA and Aberdeen Sports Therapy and Gold sponsors BackStrong Trust, SureVoIP and Bonnie Wee Golf.  To all of our partners and volunteers, who have given their time and services on the night and throughout the year, thank you.
Guests enjoyed a welcome drink on arrival followed by a delicious and authentic three course meal, raffle and auction full of unique prizes and live music from Scottish band Mustang.
We have set the date for our next dinner as Saturday 16th February 2019.  Please mark this date in your calendar and let us know if you would be like to book tickets. 
Please email Myles on info@gathimbaedwardsfoundation.org for any further information.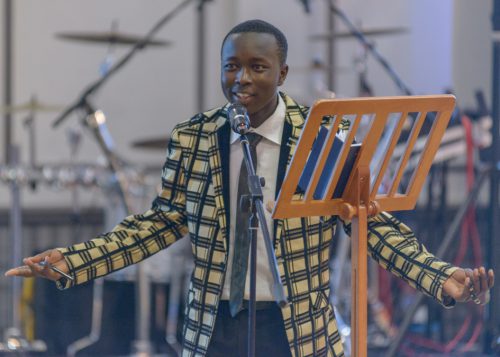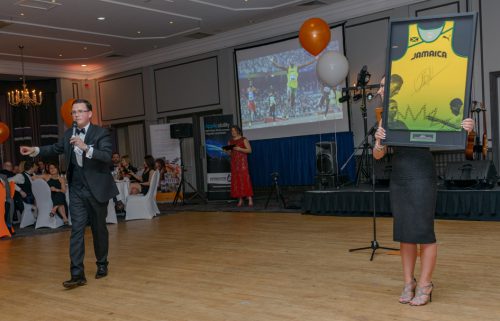 GEF dinner 2015
Your incredible support in 2015 raised £42,000 for our kids and projects in Kenya.
This has not only enabled us to increase the number of children we support from 167 to 230 but has also allowed us to improve the support we offer to them all.  Every child is now sleeping on a newly-built bed with comfortable mattress, blankets and bedding – many of these children were sleeping on mud floors not so long ago.  230 children are now in full time education, 12 of them have completed secondary school and are now in either college or university.  We have connected over 1,000 children through our school twinning programme.
Your support has enabled us to invest in businesses and farming for several families to help them become more self sufficient.  It has also allowed us to run a series of seminars advising families on a wide range of topics from managing finances, investment, self esteem, gender equality and sexual health.  We also have our own holiday projects nurturing talents in education, football and athletics.  Since we began in May 2014, we have been able to build new homes for 41 children and by October 2016 that number will have increased to 66 thanks to our volunteer builders.  For more information on the trip please click here – www.gathimbaedwardsfoundation.org/volunteer-building-trip.
Matthew James Dyer, who received the Neil Jaffrey Award in 2015, is doing well and enjoying his therapy at the Craighalbert Centre thanks to your support.  He is also starting to train on an Eye Gaze computer system which in time will enable him to communicate with his loved ones for the first time.
Thank you from the bottom of our hearts for making all of this possible.
Myles Edwards and Gideon Gathimba.
On Sunday 19th February there will be coaching sessions and a seminar available for adults and children with Wilson Kipsang, Dave Moorcroft and Gideon Gathimba at Aberdeen Sports Village.  Booking for this can be made via ASV on 01224 438900.  They will also be at Hazlehead Parkrun