RUNNING 'TOUGH' – 85 miles over 5 days
Caroline was the lucky bidder in the Auction at last year's Gathimba Edwards Foundation Dinner, she 'won' a trip to run from Inverness to Skye which was generously donated by Neil Stewart at Running The Highlands.
Caroline is due to embark on her sponsored run on 13 May 2018, she will finish on 17 May and plans to cover the following distances: –
Day 1:-21 miles
Day 2:- 17 miles
Day 3:- 9 miles
Day 4:- 21 miles
Day 5:- 17 miles
Caroline has been training hard over the last few months (even when The Beast from the East was roaring!) she is really looking forward to reaching Skye so she can put her feet up and take in the scenery as it will be her first visit to the island. Although Caroline has run marathons before, she has never embarked on a challenge of this magnitude.
She hopes to live up to her name – when the going gets tough, the 'Tough' get going!
Caroline will be returning to Kenya with us in July to help build 4 houses in 8 days – one of which is for the family of Dan who she has sponsored since 2015. It was a special moment when the pair met for the first time last October.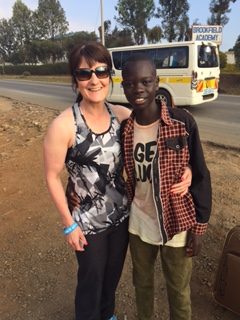 The house will be dedicated to the memory of Caroline's very dear friend, Cheryl McQue, who she met at George Heriot's School over 30 years ago.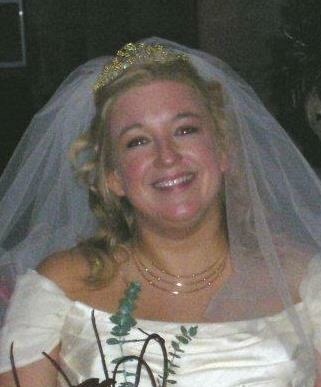 All monies donated will go towards the building materials for Dan's house.
A little can go a long way in Kenya: –
£1 – 1kg of iron sheet nails
£5 – a bag of cement
£10- 3 metre iron sheets
£25 – a window
£30- 4 pieces of ply wood
£50- wages for a local builder ('fundi) for 7 days
£100- 7 tonnes of sand
Please help Caroline to fund as many building materials as possible. In order to make a donation, please visit Caroline's Total Giving page. Many thanks in advance for your help.
---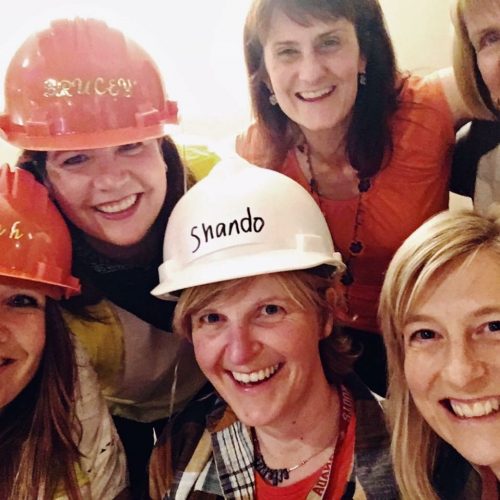 "I have known Myles Edwards, one of the co-Founders of the Gathimba Edwards Foundation for many years.  I remember feeling both inspired and excited when he set up the Foundation with Gideon Gathimba.  I was really keen to see first-hand how the charity was making a difference to kids in Kenya.  I know a number of volunteers who had been on previous GEF trips and hearing about their very positive experiences helped me make up my mind to join the Building Trip in 2017.  
I had the trip of a lifetime, here's why: –
With the help, love and support of an army of people I raised £9188 which covered the cost of the building materials for 2 houses – one was dedicated to the memory of my Dad and the other one was dedicated to the memory of my cousin. It also funded a series of health seminars for families which The Gathimba Edwards Foundation support.
I met some incredible Kenyans and experienced a very warm welcome to a country I now love. I met and worked with amazing volunteers from the UK, Kenya, Australia and the US. All the volunteers poured so much love and passion into the House Building Project.
As someone who had never even dabbled in DIY activities before the trip, it was very exciting to learn some new skills – sawing, glazing and fitting internal walls! Darren Cocker, the Project Manager is a great leader.  He was in full control of the build and was always on hand to answer any questions and provide guidance.  It was a real privilege to be part of a team that built four houses for families in need.  There was even an opportunity to get to know these amazing families, who later became our friends!
I can't put into words how special it was to meet my sponsor child, Dan. He is such a wonderful person.  I had the opportunity to spend quality time with him. He even taught me a few Kenyan dance moves!
I attended the awe-inspiring house opening ceremony. The speeches, singing, and dancing and (happy) tears are imprinted on my memory.   I will never forget how excited the families were about moving into their new houses!
I visited The Pavilion Village Orphanage in Karatina. The Orphanage inspired Myles Edwards and Gideon Gathimba to set up The Gathimba Edwards Foundation. I now understand first-hand what drove these special people to set up GEF in the first place.  I met a remarkable wee boy called Ian who I'll always remember. He told me that his parents had died.  When I offered my condolences, he smiled broadly and said 'thank you'….  The kids keep smiling despite so many challenges….
I ran 6 times on Kenyan soil, at altitude. As a runner, this was a great thrill, and really helped my fitness. I even got the chance to run with the co-founders of GEF who are a Kenyan Olympian and a Scottish title holder!!!!
At the Giraffe Centre in Nairobi, I was 'kissed' by a giraffe!
I visited an elephant orphanage, and Nairobi National Park.
I laughed and cried, and learned so much during the House Building Trip to Kenya. I felt as though I had an opportunity to detox my mind. I'm truly, truly thankful for all these experiences, I can't wait to take part in the Building Trip in July 2018.  I feel very grateful to have the opportunity to help to build 5 houses this year, one of which will be for Dan, my sponsor child, and his family."
– Caroline Tough
---